I've not given up, but I'm sad to report that I'm not getting closer to the results I desire.
I created a fresh project workspace folder with only my target.tgt file and original pulse recordings and started from scratch. My original pulse recordings were created using my Cross•Spectrum Labs EMM-6 mic and Focusrite 2i2 gen 2 interface. Microphone alignment was spot-on, and the playback level was at or under 75 dB. During the same session, I also recorded measurement sweeps in REW with exactly the same mic position and setup just to verify. Here's a link to my REW file (with and without subs engaged):
dsnyder-REW.zip
. As I've mentioned elsewhere, I find REW helpful to check my work, before and after corrections. I trust Acourate, but it's easy to make mistakes along the way. Results are only as good as the process followed…especially when recording the pulses!
This time, I tried an EPW of 6/0.9 at the suggestion of Ecwl. This enabled me to get by with less pre-ringing compensation, which I imagine is good. Here are my settings for Macro 4: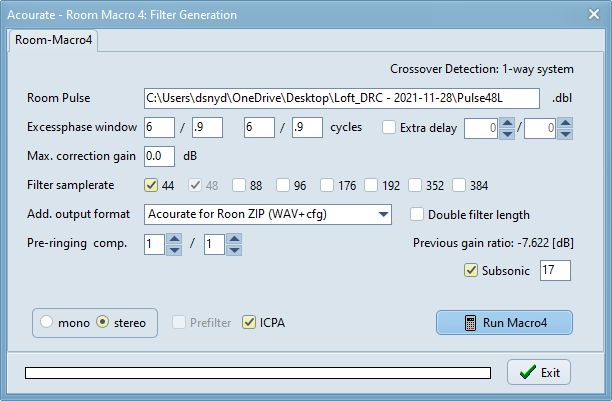 I created the filter with no ICPA correction and loaded that in to Roon. Next, I tried compensating for only a single hump in the right channel at 69.45 Hz. Here's Macro 6: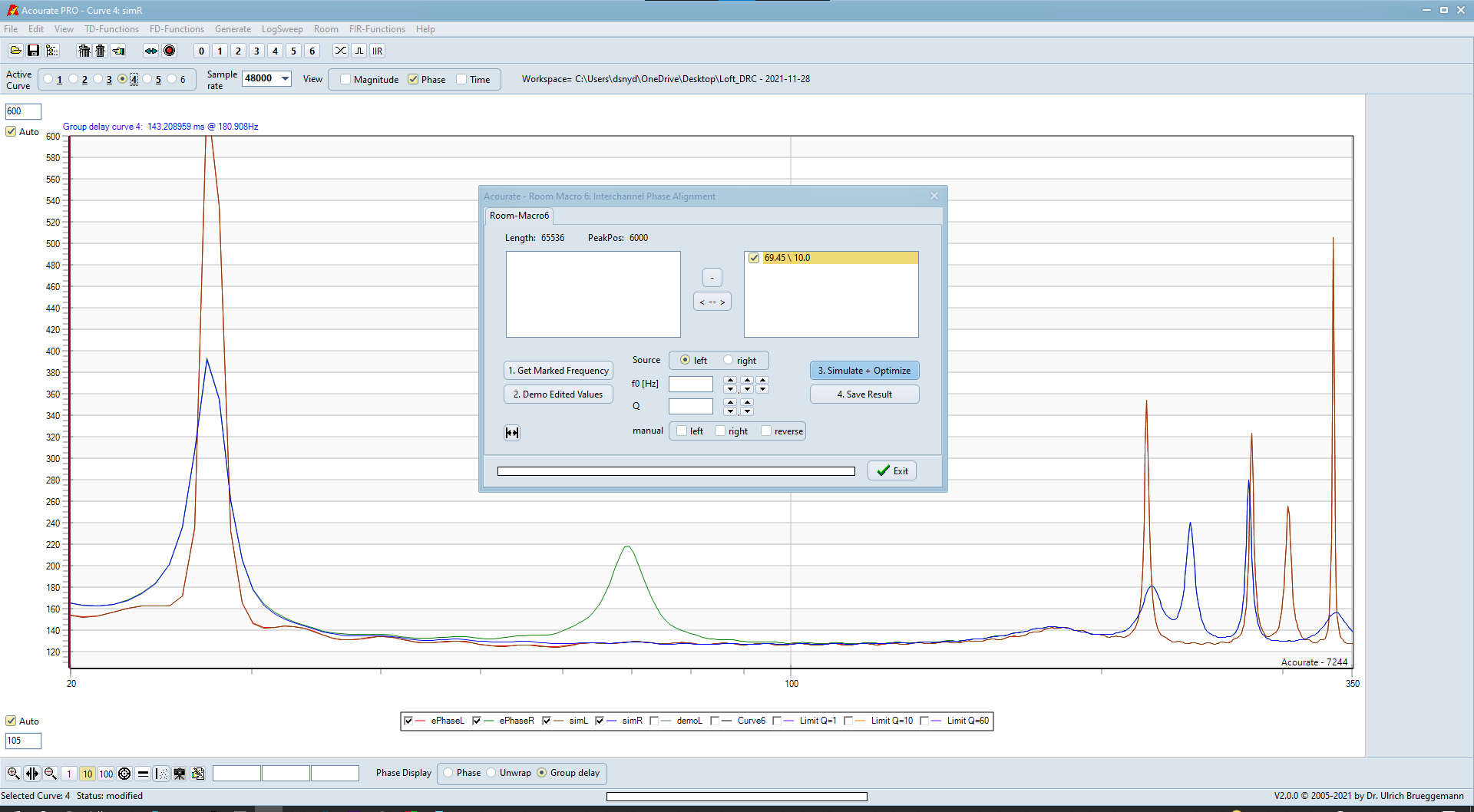 I've saved both filters as presets in Roon so that I can compare…not as seamlessly as Mitch's
Hang Loose Convolver
, but the the differences are sufficiently obvious that aural memory and precise level matching are not necessary.
Sadly, the listening results are poor, a bit worse even than with my previous attempt with EPW of 5.2/2 and more ambitious ICPA corrections. So far, the most coherent-sounding results are with 5.2/2 and no ICPA, but I'll keep experimenting. I have not ruled out the possibility that there's something wrong with my pulse recordings, but if that were the case, 5.2/2 with no ICPA would sound wrong as well, right?
My goal is to produce a correction with bass that is at least as coherent-sounding in phase as no correction at all (which is excellent) and with desired improvements in time-domain performance and overall tonal balance. This
should
be possible with V2, but the correct process continues to elude me, even after my improved understanding of ICPA compensation in Macro 6.
Heres a link to my new, cleaned up project folder:
dsnyder_2021-11-28.zip
Once I have an opportunity to record new pulses (involves moving a chair and table out of the way), I'll share the results. In the meantime, I'd be grateful for references to general guidance on EPW selection. My limited understanding from Mitch's book is that we iterate until we have minimal or no significant "vecin" peaks above 100 Hz on the Phase plot and a Time plot with minimal or no pre-ringing, a nice high peak in the step, and parallel or matching behavior in both channels as time progresses. Generally, the high-frequency window width should be small to prevent over-correction. Higher values (above 4) for low-frequency window width tend to produce results that better conform to the target but can also produce unstable phase behavior. However, I do not have a good algorithm for arriving at optimal EPW values. Currently, I just randomly try low-frequency width values from 3 to 9 and high-frequency values from 0.9 to 2.2, stopping when I see results that produce a reasonable compromise between Time and Phase behavior. I do not know when, if ever, it would be a good idea to use different EPW values for the left and right channels, for example.
Thanks again for having a look. I'm hoping to get well-tuned with v2.0 eventually…